Our territory
"LE VILLE DI CERZA" COMPLEX STANDS ON THE EXCLUSIVE CATANIA HILLS, FRONTING THE SEA, IN THE WELL-SERVICED RESIDENTIAL AREA. THE STRATEGIC POSITION OF THE PROPERTY, IN THE MUNICIPALITY OF SAN GREGORIO DI CATANIA, CERZA DISTRICT, ALLOWS EASY ACCESS TO BOTH CATANIA CITY CENTRE AND, THANKS TO THE NEARBY RINGROAD, ALSO OTHER FASCINATING DESTINATIONS IN EASTERN SICILY, PASSING FROM THE COAST TO THE INLAND AREAS.
ART
Living just a few steps from the historic centre of Catania means participating in cultural events or visiting ancient churches and majestic palaces in the streets of the centre. "Le Ville di Cerza", thanks to its strategic position, also allows you to live near the ancient seaside villages such as Aci Castello famous for the Norman Castle and Aci Trezza, the village of the Malavoglia, with its Faraglioni. In nearby Syracuse, on the other hand, you can visit the Greek theatre with the famous Ear of Dionysius.
THE SEA
For those who love the sea, "Le Ville di Cerza" are the ideal location to live, in order to enjoy landscapes and breathtaking views in all seasons. Just a few steps are sufficient to reach the nearby beaches or the lava rock cliffs, while a few kilometres from the residential complex are also other seaside resorts of Eastern Sicily, enchanting us with their crystalline waters and their history: Taormina and Isola Bella, the island of Ortigia in Syracuse, the Vendicari Reserve.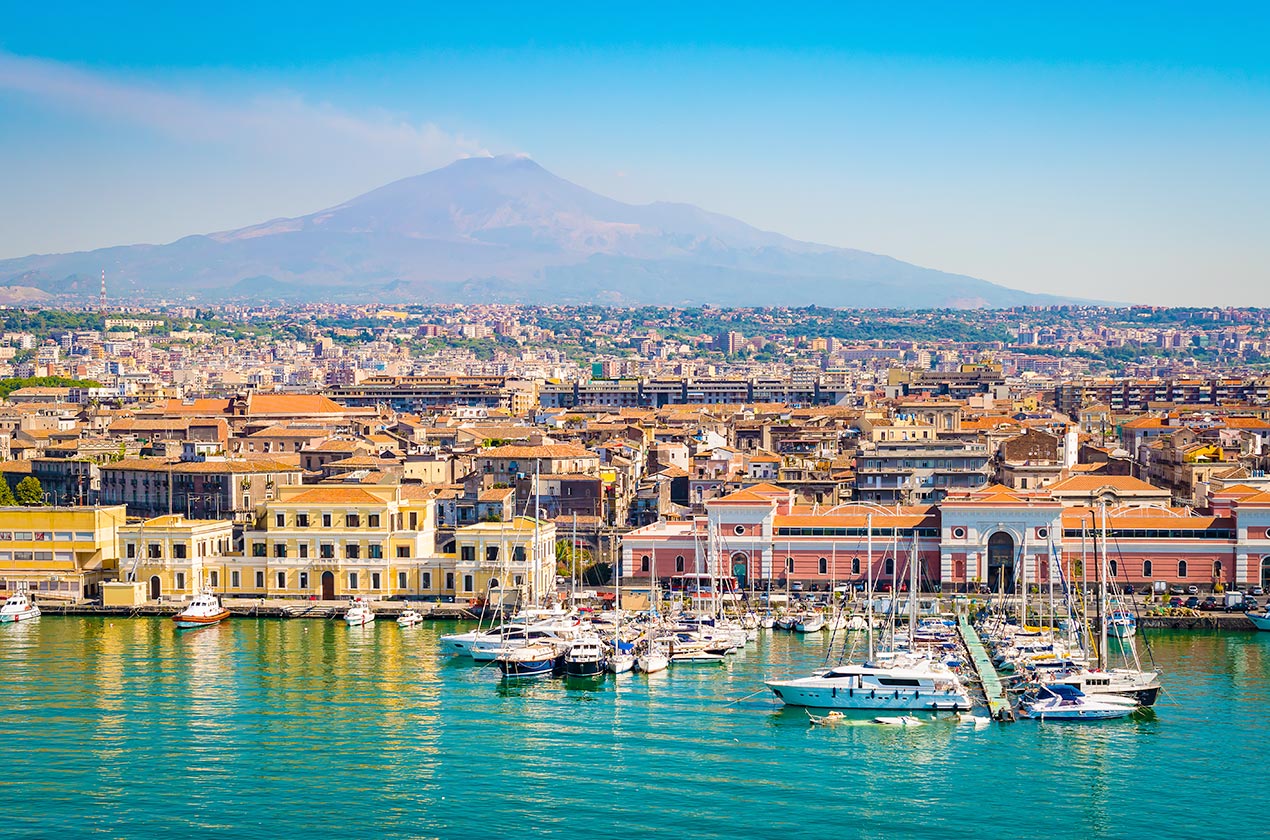 City centre
---
In just ten minutes by car you can reach the centre of Catania
Catania Airport
---
From Fontanarossa airport you can reach Catania Hills in 20 minutes by car
Port and train station
---
The station and the port of Catania are located near the historic centre
Highway A18 ME/CT
---
Reachable in a short time from the San Gregorio ring road

Public shuttlebus
---
The stop is close to the residential complex. Times and routes are subject to change
Commercial shopping area
---
On the opposite side of the street there is a large shopping centre where you can find everything you need
Etna - Rifugio Sapienza
---
For those who love heights, excursions to the summit of the craters of Etna are available from Rifugio Sapienza
Taormina
---
You can visit one of the most beautiful cities on the coast and take a swim in the waters of Isola Bella
Aci Trezza
---
You can visit the Malavoglia Village, the Faraglioni and the Lachea Island
Industrial area
---
The industrial district, where the most important companies of Catania are located
Augusta
---
You can visit the beauties of the city, the Swabian Castle and the sea
Acireale
---
Experience the atmosphere of the carnival, admire the carts and visit the Roman Baths